Local Info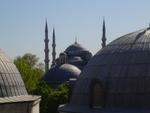 The Blue Mosque As stated in lonely planet: "Istanbul is hot. And we're not talking about the weather. These days, there are more happening restaurants, bars, galleries and clubs around town than there are exquisite Ottoman mosques (and that's a lot). The international fashion and design press have been talking up İstanbul ad nauseam, but the most significant thing about the accolade 'World's Hippest City' is that İstanbullus themselves have come believe it. The creeping sense of decrepitude that had fallen like a pall over their once-all-powerful home town has vanished, replaced by a sense of energy and innovation not seen since the days of Süleyman the Magnificent."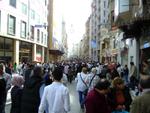 Istiklal Caddesi Uniquely located on Asia and Europe, between the Black Sea and the Marmara Sea, Istanbul presents itself as an ancient and at the same time inspiring, modern city. With its more than 2500 years of history, Istanbul offers a plethora of monuments and artifacts: From the Basilica Cistern and Hagia Sophia, to the Sultan Ahmed Mosque and Topkapi Palace to the Grand Bazaar and Galata Tower.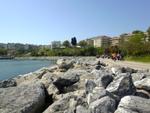 Sea side in Kadiköy Not far north lie Beyoğlu and Taksim, said to be the center of the modern city. Its heart is the Istiklal Caddesi, which spans from the Galata Tower to Taksim Square. On daylight, Istiklal Caddesi lures to take extensive shopping sprees at various shopping centers and boutiques. Exhausted pedestrians take a break and have a tea (çay) in one of the many cafés that lie along the street. At night back-alley bars invite to a beer and colorful night clubs burst with party-goers.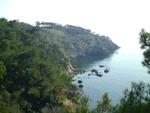 Princes' Islands On the Asian side, Kadiköy is the perfect place to escape the turmoil, drink a tea in one of the many bars and cafés and relax on the shore of the Marmara Sea. Princes' Islands, a chain of nine car-free islands, which can only be reached by ferry, are a popular travel destination for tourists and locals.
Some of the online Istanbul city guides are listed below:
Accomodation
Below is a list of hotels that were suggested for the eighth International Conference on Language Resources and Evaluation (LREC) that was held in Istanbul in last May: www.dekon.com.tr/LREC2012/en/accommodation.asp
You may want to stay around the Taksim area, which is the culture and entertainment center of Istanbul. The old town is also easily accessible from there, as well as Istanbul Technical University, where the workshop will be held (it is on the M2 metro line). This is the google maps location of the Metro Stop:
Getting Around
Since transit maps are rare, Istanbul's public transport system may look daunting to newcomers. However, with some planning you will be able to reach any destination without walking too much.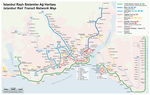 Istanbul Transit Map To get from Atatürk International Airport to the city you can take several routes. The easiest, but by far most expensive one is to take a Taxi. Fares are standardised to start off at 2.70TL and 1.70TL for each km afterwards. Drivers might try to negotiate a fixed price for the trip. You should avoid these taxis and take another one that runs a taximeter. A taxi ride to the city center might cost around 70TL. Another popular means of transportation are the Havataş buses that operate every half hour between airport and Taksim square. A ticket costs 10TL. It is also possible to take the public transportation to Taksim square. One can take the metro line M1 and change to tram line T1 in Zeytinburnu followed by the change at Kabataş funicular to Taksim. If you don't have an Istanbulcard, this trip will cost 9TL.
Istanbul Technical University is best reached by the metro line M2. A trip from Taksim to ITU Ayazağa takes about 15 to 20 minutes depending on the time of day. To get in the train, you need to by a token from automatic token dispensers, which can be found inside the station. Since September 1st 2012, a token costs 3TL (previously 2TL). It is valid on any urban rail in Istanbul. If you enter line M2 at Şişhane, you need to get out and switch the train at Taksim. The train to ITU Ayazağa departs on the opposite platform.
The district Sultanahmet, where most of the historical sights are located, is connected via tram-line T1. The terminal station - Kabataş - is connected to Taksim via funicular. From Kabataş it is also possible to take a ferry to Kadiköy on the Asian side. Other ferry ports on the route of T1 line are Karaköy and Eminönü. Another ferry port is located at Beşiktaş which can be reached by bus, minibus and taxi.